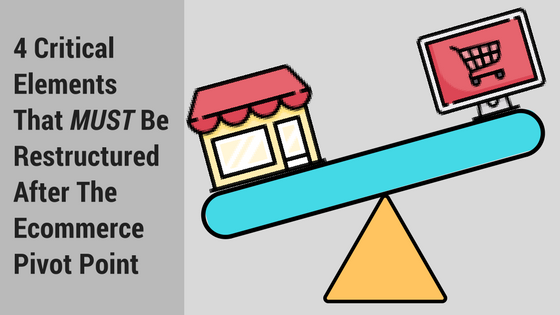 4 Critical Elements That Your Brand MUST Restructure After the Ecommerce Pivot Point
Let's face it, ecommerce will become the primary channel of many categories…and it's happening fast.
But is it already past the point of critical mass… that "ecommerce pivot point"?
In this post I will be talking about the eCommerce pivot point, and about what can be done to prepare for it.
The eCommerce Pivot Point
Before we dive into all the strategic stuff I want to tell you a story…
Our Black Friday Trip
I took my daughter to a major craft and hobby store, "Mathews" for their special Black Friday deals. In prior years, shoppers were lined up at 7:00am to be able to take advantage of the time-sensitive deals.
This year, the store was empty.
By the next day, it was reported that more Black Friday gifts were purchased online than in a physical store.
To me it was very evident that we have reached a very important pivot point in how people purchase.
Traditional Brick & Mortar Retail
Most product companies have a structure that is based on supporting traditional brick & mortar retail. They are struggling as they try to force-fit the online retailers into their current structure and mode of operating.
In the process, they are severely handicapping themselves by not creating the structure that will allow them to win in the ecommerce space.
Brands need to reset the structure of the organization as ecommerce is now a critical channel, containing the soon-to-be retailer leader, in most categories.
Businesses need to think about key structural elements including how channels are supported organizationally, the architecture of trade spending, distribution setup, and marketing innovation.
The First Critical Element: Organization
Organization set-up is one of the first critical elements a business needs to refine. Many brands have initially set e-commerce responsibilities within the traditional sales organization. Ecommerce needs to be led by a cross-functional leader outside of sales.
What I am seeing as I interview organizations, is that sales orgs are being pulled in opposite directions. They are being held accountable to support e-commerce, but they also feel the stress that e-commerce is putting on sales in traditional channels.
The real individuals that are responsible for the brick & mortar channels are putting pressure on the leaders because of the cannibalization of channel sales and how they are personally compensated. As a result, many sales leaders are not fully supporting e-commerce as they feel the pressure of their long-time direct reports and friends.
There is more internal focus on the decreasing traditional channel sales versus how to really maximize online.
To be able to drive neutrality, e-commerce needs to have direct reporting to the business president; it may not be right for it to go through the leader of the traditional sales channels.
The Second Critical Element: Trade Support
In addition to the organizational structure, the set systems for trade support need to be modified. In the past, marketing and price promotion support was provided to the traditional retailers.
The retailer had a good amount of independence in how this was spent. They often would feature the product in circulars with a discounted price point. The combination of sale products would drive traffic to the store.
In e-commerce, traffic is driven by search and inbound marketing. It's much more critical that either a brand or retailer is investing in the digital marketing tactics that will drive a consumer to the site and preferably directly to the brand's product page.
Having periodic promotions online is not as impactful, as with a quick search you can find the lowest cost possible on a product, independent from the retailer.
For online retailers, brands need to move funding from trade funds that support pricing promotion to inbound marketing tactics and advertising. Brands should be rewarding retailers that tie online marketing directly to their products.
Sending to a retailer's homepage should only be half of the reward.
In the case that a retailer is not setup to drive strong digital marketing, the brand should take on the activity on their own, and utilize funds that have been earmarked for that retailer.
It is still retailer-specific marketing that the brand is executing against.
The Third Critical Element: Move From Traditional Marketing
As we are talking about marketing, it is critical that a brand is starting to move from traditional marketing tactics, also known as "interruption" marketing, to "inbound" marketing. Interruption marketing is marketing that basically interrupts a person's attention…it is "in their face".
Examples include TV, print, online banner ads, and radio.
In contrast, inbound marketing are tactics that are naturally within a shopper's path to purchase, and lead to an eventual sale.
In today's world, savvy inbound or acquisition marketers know that they can track individual shoppers from marketing touch points to an actual sale. They are iteratively testing, measuring, and refining the tactics and creative that drive and online sales.
Brand marketers need to incorporate inbound tactics into their marketing mix just as direct brands are doing today.
This may mean that they incorporate inbound tactics that lead to e-retailers sites.
This marketing on behalf of the retailer may seem out-of-bounds by yesterday's paradigms, but a brand can be more efficient in direct marketing than a retailer that is selling tens of thousands of products.
The Fourth Critical Element: Distribution
Distribution is the final area that should be reset. Brands now have the ability to send product directly to major ecommerce distribution warehouses instead of internal distribution warehouses and brick & mortar retailer distribution centers. This can serve the purpose of significantly reducing costs from the end-to-end systems.
A brand should be conducting an end-to-end audit of their supply chain.
During the audit they map out the entire process, and time and costs incurred at each point. They should also map out where errors or problems occur.
Next, they should map out how to reduce the entire chain. They should focus on the areas that will drive the biggest gain, and identify the changes required to achieve it. They next need to put together a phased plan to achieve their goals.
Final Thoughts About the eCommerce Pivot Point
Organizational design, trade and marketing spending, and distribution architecture are four critical elements that need to be reset now that ecommerce as a channel is becoming the growth engine of brands.
As a business does a deep-dive of what "winning in ecommerce" entails, there will be other areas that are identified. The key is to not delay in addressing the changes, or you will be left behind as others design for ecommerce.
At this point you'll be playing a game of catch up, but at least it's not too late yet (at least in most industries). Following. these four restructuring will help ensure you are setup for the growing world of eCommerce.
If you have questions about your own eCommerce strategy, please comment below. Alternately you can contact me directly by clicking here.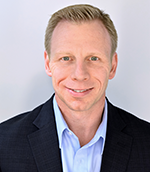 Keith Johnson
Founder and Principal - Brilliant Ecom!
Keith Johnson is a corporate strategist and innovation expert. Keith spent the first half of his career with Procter & Gamble in the US, Europe, and Asia, with a focus on growing brands through technical and commercial innovation. Most recently with Catalina Marketing, Keith worked to innovate shopper marketing for top consumer product companies through digital promotions and advertising. A serial entrepreneur, he founded and grew a breakthrough ecommerce company and launched a digital marketplace startup. Keith serves as an alumni leader for the University of Chicago Booth School of Business.
Today, Keith is the Founder & Principal of Brilliant Ecom!. Brilliant Ecom! helps brands understand what is happening in their category online, set a solid e-commerce strategy, and provide infrastructure to handle the most critical yet manpower-intensive elements to drive sales.
BRILLIANT ECOM!